SpliceNet Business Series Webinar
7 Things your Competition is
Getting Right with Social Media
Feb 22, 2016 at 2:00 PM EST.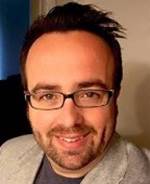 Join SpliceNet's Jim Gast and Shawn Michael McCabe, President & Founder of McCabe Media & Host of X on TV's Star64.
Hear Shawn discuss Facebook and the fact that in Social Media nothing else matters today except mobile and video. Learn concepts that apply across all Social platforms and why different platforms make sense for different businesses but also how to demonstrate prowess and value in the all the majors: Facebook, Instagram, Twitter, Snapchat and LinkedIn. Shawn will also cover cross-channel Social posting and the management of these without any outsourcing, consultant or agency. No sales pitches. Just honest business tips you can hang on to and use immediately following the webinar.
About Your Host: SpliceNet, Inc. is a Cincinnati-based Technology Consulting firm that specializes in Small-Mid Size Businesses (SMB) and Legal Tech. The SpliceNet team has over 22 years of experience in providing top-to-bottom SMB Technology and Legal Application support, installation, customization, and training, for SMB, Law Firms, Non-profits and Corporate Legal Departments.